UK GERMAN SHEPHERD RESCUE
UK German Shepherd Rescue - Rescuing & Rehoming German Shepherd Dogs & Puppies throughout the UK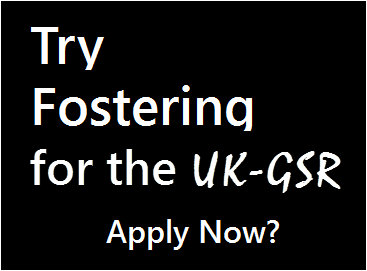 With your help we can help more dogs
Our dogs rely entirely on donations, your donations help UK German Shepherd Rescue continue its work in helping the abused, neglected and unwanted German shepherd dogs & puppies in the United Kingdom.

We'll come straight to the point: You can eliminate one or more animal's pain and suffering by a simple and modest donation.

Your personal contribution will help support our work.
Donate here:
Donations that work harder

Volunteer
Share your passion
The UK German Shepherd Rescue (UK-GSR) is a network of over 400+ volunteers, each having their own skills and abilities, but all share one common interest, a dedication and passion for the German Shepherd breed.

We are all rescuers united. Rescuing isn't about being upset and saddened by what you see, it's about changing a dogs life forever, it's about working as a team to help a dog on their journey into a loving home and a brighter future.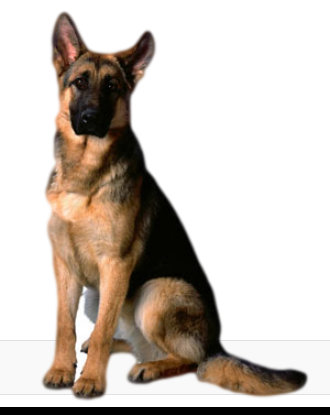 "We can't rescue or rehome unwanted German Shepherds without your help."
The UK German Shepherd Rescue requires volunteers in all regions of the UK, everybody is very welcome to join our rescue. We don't discriminate anybody and value everybody for what they can bring to our rescue. All age groups are welcome but you will need to be 25 years and over to work with our dogs due to insurance requirements, all volunteers under 25 are very welcome to fund raise, join in with breed awareness and help educate people with responsible dog ownership.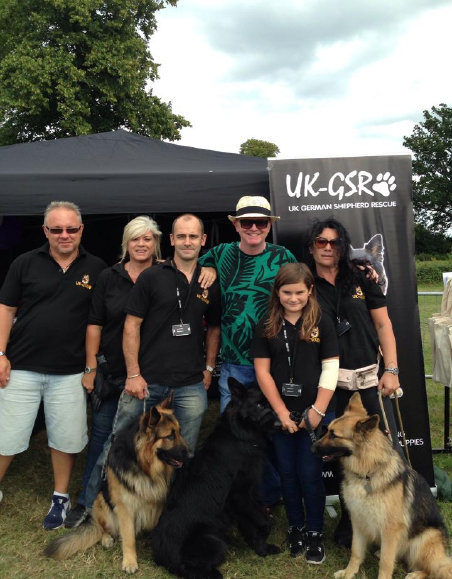 Chris Evans meets the UK-GSR Events Team
Here are some of the roles within the UK German Shepherd Rescue
Home Checkers
Home Checkers work front line with the general public and are vital in helping our dogs find only the best possible homes. The role of the home checker is contact and make a mutual appointment with the adoptee for a convenient time to visit.

Your informal visit consists of a small interview asking preset questions from a our home check form, you will need to do a visual check of the home and gardens to ensure suitability of the home for one of our dogs.

We will ask you to put your personal views about the home and pass your completed home check form with all the information you have collected back to your rehoming coordinator who will decide on the suitability of the home and inform the home of the results.

Full training will be given. You will only be sent home checks in your local area.
Apply Now
HOME CHECKERS will need:

Good communication skills
Transport to cover a 20 miles radius from your postcode area
Internet and email
Telephone
Aged 25 years and over
Dog Assessments
Dog assessors also visit homes and conduct a small interview gathering as much information about the dog(s) that needs rehoming.

When asked to complete a dog assessment you will be requested to contact the home and arrange a suitable appointment for you to visit.

The assessment consists of completing a questionnaire and a visual check of the dog including taking the dog for a general short walk. You will also need to take some photographs for our website and social media sites.

The information you have collected is given to the rehoming coordinator who will find a suitable home, foster home or kennel space depending on the urgency of the dog.

Full training will be given. You will only be sent assessments in your local area.
Apply Now
Dog Assessors will need:

Good communication skills
Use to handling dogs including visual health checks
Transport to cover a 20 miles radius from your postcode area
Internet and email
Digital camera (smart phones are ok)
Telephone
Aged 25 years and over
Foster Homes
Foster homes help with ongoing assessments which are vital to finding the right homes. Fostering can also be a great way to own a dog without long term commitment, if you work or live abroad for part of the year but enjoy the company of a dog when home fostering can fill that gap. Maybe you are unsure about getting another dog, fostering can help you to decide whether you are ready to take on a full time commitment. Or maybe you just love the breed and would love to help us rescue and re-home more unwanted German shepherds.

Our rescue will cover all medical costs and vet fees, and all you need to buy is their food. German shepherds are a great companion dog and love your company; they are loyal and a very devoted breed. If you live on your own they are very good listeners and don't answer back. As a foster career you will have the satisfaction of knowing you helped your foster dog on his/her journey to their forever home
Apply Now
Foster Careers will need:

Pass the rescue home check
Use to handling dogs including visual health checks
Transport
Internet and email
Telephone
Aged 25 years and over
Transport
We need transport volunteers to help move unwanted dogs at risk of being put to sleep or simply need moving to a safe and secure place like kennels, foster homes or adoptions. Most adoptions are completed at the weekend.

Long distances are covered by more than one transport volunteer and in urgent cases the rescue will cover out of pocket fuel expenses.

All you need is a suitable vehicle, our rescue will give you full training on handling dogs in transit and handover procedures.
Transport Volunteers will need:

A suitable car
Use to handling dogs including visual health checks
Internet and email
Telephone
Aged 25 years and over
Fund Raising
Fund raising is vital for our rescue and for our rescue dogs who depend upon us, funding donations cover such things as our kennel bills, veterinary treatments such as spaying and neuturing, vacinations and dog check ups. Micro-chipping, dog warden release fee and transport costs to name a few. No donations are spent on wages or personal expenditure.

Our fund raising events include dog shows, in-store stalls/stands or for the brave sponsored bungee jumps, walks, shark dives and other equally mad ideas. If you have a fund raising idea we would love to hear from you or why not join our winning team.



Apply Now

Apply Now






Registered in England and Wales / Company Number 07664845 / Registered Charity Number 1160745
Registered address : Elswick Kennels, Bonds Lane, Preston, Lancashire, PR4 3ZE
© UK German Shepherd Rescue 2010-2020 All Rights Reserved
OFFICIAL UK German Shepherd Rescue Charity - RESCUING & RE-HOMING GERMAN SHEPHERD DOGS AND GERMAN SHEPHERD PUPPIES ACROSS ENGLAND & WALES.
Cookies & Privacy
Unlike other website's we do not track you while you visit us, no information about you, your computer or device is being tracked or information about your Internet use or information about other visited website's is being collected. Third party services the UK German Shepherd may use to provide a service to you will have their own Cookie and Privacy policy. Read more about our
"Cookie Policy"
& our
"Privacy Policy"
it will tell you about How We Use and Store your information and how long for.